Welcome to Year 2!
Autumn term 2
Important Year 2 Information
Our Teacher is Miss Fairclough
Our Teaching Assistant is Mrs Ireland
Mrs Sherlock teaches us on a Monday afternoon and Mrs Scarborough teaches us on a Tuesday afternoon.
PE days are Monday and Tuesday
Please ensure all items of PE kit is clearly labelled and in school. They will remain in school until half term. Please ensure you have removed any earrings on this day as children will not be able to do PE with earrings in and that long hair is tied back. Please note that adults in school are not allowed to remove the earrings and plasters over earrings are not permitted.
Weather permitted the majority of the lessons will be outside so please provide warm clothing, e.g. leggings or tracksuit bottoms.
Independence
Please continue to remind your child to hand any letters that may need to be collected to a member of staff rather than leaving it in their reading bag. Children also need to take their reading books and homework books out of their bags and place them in the allocated box in the morning. Reading books will only be changed and marked off for the Reading Challenge if they are in the basket.
Reading
Please listen to your child every night and ask lots of questions to ensure he/she understands what they have read. This should take approximately 10 minutes.
MyMaths homework will be set every Friday and the due dates will be available to view on the MyMaths website.
If you are using a tablet, you will need to use the 'Puffin Academy' app.
Remember to log in using the school details before you log in with your personal details.
All the children have been sent home with a copy of their log in details. Please keep these safe! Should your child misplace these details, please don't hesitate to contact me on class dojo and I will re-send them to you.
Each half term, the children will be given a homework map that is linked to their topic. They need to choose one activity to complete each week, and this is due every Thursday. Books will be returned home on a Friday.
Autumn Term 2 Topic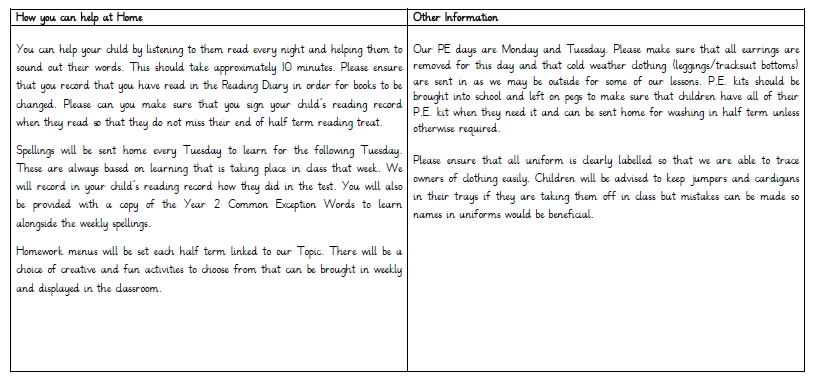 Our topic this half term is called 'Fighting Fit'.
In Literacy, we are reading 'Meerkat Mail' by Emily Gravett. The children have learned actions to help them remember the story.
We are going to be writing our own versions of the story, sending Sunny the Meerkat backpacking on an exciting around-the-world trip!
We will be using the internet to research information about the 6 countries that Sunny will be visiting. I wonder what he will like or not like about each new place...!
In Maths this half term we are learning about money, multiplication and division. We are going to be doing lots of problem solving in all our Maths work.
Class Dojo
It is fantastic that most of our parents are all connected with Class Dojo to see how your child is getting on with earning their points and checking in with the Class Story.
We regularly use the messaging aspect of Dojo for communication so please look out for any messages and feel free to send either of us any messages or ask any questions.
Please remember that this app has quiet hours function and we will not receive notifications between 6pm and 8am.
If you have any questions or queries then please do not hesitate to contact me.
Bryony Fairclough
bryonyfairclough@ashton.lancs.sch.uk